Multipreneur, business owner, festival vendor, hoopmaker, flow toy maker, hulahoop teacher, certified Hoop Love Coach, Seamstress, fashion designer, former coffee shop/bakery sole owner/operator (Revival Cafe & Market), former homeschool mother,  vintage camper owner (1968 Avion T-25), life explorer and follower of dreams.
Certified Hoop Love Coach
Sharing the love of hoop dance and helping others find the joy of play has become a passion that Jen shares around the country.
She teaches beginner to intermediate hoop classes along with special events for schools, music festival workshops, homeschool co-op classes, and women's night out classes. Jennifer brings interactive entertainment to city festivals and private parties guiding people to hooping anywhere she can, bringing along extra hoops to share.
Jen is a fun, free spirited, inspiring, hoop teacher as well as a creative, crafty, colorful hoop addict.
Refashion & Upcycle Clothing Designer
The clothing industry is one of the biggest waste-producing industries, due to continued change in fashion.
Jen's journey started by learning how to sew from her mother as a child and learning through 4-H, always adding to her eclectic fashion style. Her first event vending began with selling macrame necklaces, beaded bracelets, and patchwork dresses in the parking lots of Grateful Dead shows, igniting the spark of her passion for entrepreneurship.
Her journey was not a straight path but has led through becoming a mother to three boys, homeschooling for years, beginning her own festival craft vending business, and finding her love in 2012 with teaching her first hoop classes. Jen continued festival vending and events while opening a brick and mortar coffee shop and bakery in 2017. Closing the café in May of 2021 gave her the freedom to return to her passion of creating designing hoops and clothes, vending at festivals, and sharing her passion with others as a certified Hoop Love Coach.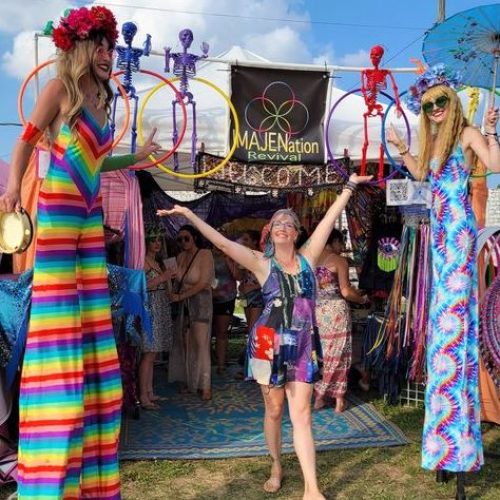 I believe hooping sets us free
I believe hooping fills us with sparkles
I believe hooping gives us wings
I believe hooping is bliss
I believe hooping is love
I believe hooping is a true story
I believe hooping brings us full circle
I believe hooping is hope
I believe hooping makes us powerful
I believe hooping can change your life
I believe hooping is for all ages
I believe hooping is a form of therapy
I believe hooping is an exuberant fitness tool
I believe hooping is moving meditation
I believe hooping makes us beautiful
I believe hooping is healthy movement
I believe hooping creates community
I believe hooping creates confidence
I believe hooping is home