Handmade Hula Hoops & Flow Toys Made With Love and Kindness, and filled with manifesting intentions.
Looking for ways to dance, move, exercise, strengthen core and balance all while building confidence and creating cognitive stimulation? 
You've come to the right place. Endless supply of colors shapes and sizes of handmade Hula hoops, Flow toys and Fidget Toys available. 
Beginner hula hoops (larger and slightly heavier tubing to make hooping easier for all sizes and more durable for kids). 
Polypro and HDPE Hoops (taped or naked) – for intermediate to advanced hoopdance and circus style activities.
The Fidget Flow Toy – One of a kind, made by me flow toy or is it a fidget toy? – an open ended imagination toy for movement, dance, and cognitive stimulation.
Poi (juggling) – upcycled, new or LED. 
Levi-wands, staff/dragonstaff, juggle stick, juggle balls/rings, spinning plates and more….. Jen is always adding more flow toys to her toybox to sell and share.
Research shows that exercise, movement and play are not only good for our body but great for our minds, too. Play like a kid, explore your bodies movement, build confidence by learning new activities and succeeding.
Hoops
Beginner to Advanced
Handmade, Professional Quality Hula Hoops
Handmade Hula Hoops made for fun, flow and fitness. Beginner and Fitness Taped hoops, Intermediate to Advanced Polypro and HDPE Dance Hoops.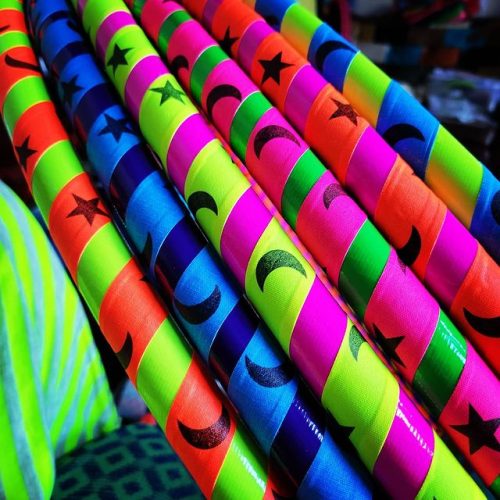 The Original Fidget Flow Toy
Flow Toys, Fidget Toys and More
Fidget Flow Toy was invented by Jen, the Owner of IMAJENation Revival, and is designed to be entertaining, inspiring and creative. Think outside of the hoop and think about how a simple square can become shapes and movement. What does it do? You decide! Create designs, gidget, flow, puzzle, dance, tactile, development, adaptive, sensory toy. 
Flow Toys, Fidget Toys and More
One Of A Kind Designs and Tested & Approved Toys by Jen
Poi – Traditional, beginner and upcycled creatively designed Poi, that is one of a kind and designed by Jen.
Beginner Dragon Staff – Coming Soon
Fidget Toys – Tested and Approved by Jen